Pet Shop Saga - Free

Get immersed in the "Pet Shop Saga" world and play with your favorite pets!
You have to switch pets from one place to another place to make triplets or more than that. This game has lots of levels to get fun. Try this cute game. Be remember you have limited steps to complete levels.
Download this FREE Java app.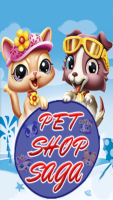 Отзывы о приложении
Может заинтересовать