Jewel Pop Saga – Free

Jewel Pop Saga is a funny and fascinating game and now available on phones. The task is simple connect as many same colored jewels as you can. Now You can make highest target for your friends and you can compare your score with them. You have 180 seconds to connect as many same jewels by making links with of the same color jewels.
Download now and enjoy a fantastic game for FREE.
Features -
* Addictive game play
* Rich graphics
* Simple control - easy to learn and play
* FREE to download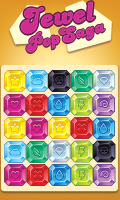 Evaluación de productos
A usted también le puede interesar