Bear Vs Zombies - Free

Those stupid zombies are back, a brave bear is the last hope to keep them brainless.
T viruses spread all over the world. A large number of people and animals are infected with viruses T and become zombies. Bear is fighting against them and he is the only survivors. You can involve in the war against the zombies by helping this brave bear. Kill all the zombies by using powerful weapons and bombs.
Download this FREE Java app.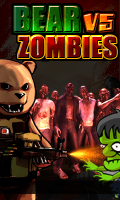 Evaluación de productos
A usted también le puede interesar