Street Fights FREE

Discover a world full of action and adventure waiting just for you!
Different gangs have been taking over your hood. It is time to fight back and step up as a leader of your own gang. Beat your old enemies in bloody street fights and become the best street fighter of the city. Try to knock out all opponents, use combos and dodge the opponents punches.
Dive into the gang warfare and hope nothing goes sour, make sure you win back your old influences over the city.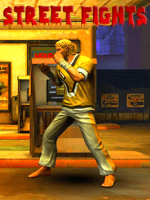 Evaluación de productos
A usted también le puede interesar