Messenger - Mobile

We are happy to announce a brand new messenger developed specially for mobile phones users. We are aware of the constant serious issues with the most popular messengers like WhatsApp, Viber, Facebook messenger and others, which are not more supported by their developers on mobile phones. That's why we created our own messenger and are ready to provide its support in the future.
Now it's quite simple, but we plan to update and upgrade it on a regular basis, and add some cool features in the near future.
Stay in touch with your friends every time and every where!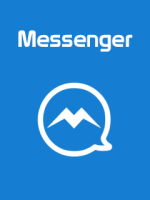 Evaluación de productos
A usted también le puede interesar