All-In-One: Phone Booster FREE

Now there is no point to run multiple apps every day for keeping your phone in optional condition! We put together all most useful apps in a brand-new application "All-In-One: Phone Booster"!
"Battery Saver" will solve the battery problems and extend your device battery life by effective power management. It will optimize the use of your device by scanning and closing the background apps and by killing the running tasks.
"WiFi Booster" will scan and detect all the background apps that use your internet and disable them for your online speed improving. Besides, it refreshes your network connection giving you in most cases a stronger signal!
"RAM Optimiser" will boost your mobile CPU Speed (RAM) very quickly by killing all unwanted background processes that use up memory and also by cache clearing for all apps not in use. The app also gives you the option of showing available memory of your device.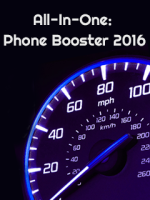 Evaluación de productos
A usted también le puede interesar