WiFi Password Hacker FREE

Scare your friends that you are able to hack their Wifi passwords! Get the password to any secured WiFi network with WiFi Password Hacker and look like a genius! It is the best way to prank your friends into thinking you are a technical genius.
Just run the application and view a list of available WiFi networks. Select the WiFi account you want to hack and a fake password will be generated for it!
Fool your friends and get fun!
Disclaimer: It is not a real hacking application. All passwords and even available WiFi networks generated are random and fake!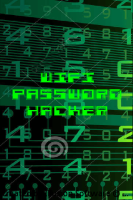 Product reviews
You might also like