Super Contra Fighter - Free

Try this real shooting game in a metro city!!
You are the only person who is live to secure your city. You are behind a car. Shoot your enemies with your long lasting fire gun. This game has unlimited bullets. Beware of enemies otherwise your life bar will decrease.
Download this FREE Java app.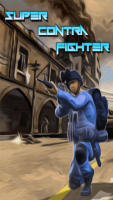 Product reviews
You might also like