2048

"Most addictive Mobile version of 2048 game and almost perfect 2048 number puzzle game for J2ME! Explore deep challenge for your mind! Swipe to move the tiles, when two tiles with the same number touch, they merge into one.
Example: 2+2=4 ... 4+4=8 ... When a 2048 tile is created, the player wins."
Download this FREE Java app.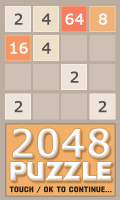 Product reviews
You might also like