Train Rush – Free

Train Rush is one of the most exciting game for your java Phone. Guide trains to their destinations by managing direction and track switches. Avoid the collision with bridges.
A big earthquake during morning rush hours has wrecked havoc with the railroads, and has made all the trains go off track on a collision path at full speed. The traffic signals have failed and there's no way to stop the trains.
Test your skills as express train driver and take control of the rail engines, as you drive them safely to the station. The road is difficult and it's not easy to guide these super trains as they run past the various towns.
Download now and Let's enjoy the amazing free java game !
Features-
* Awesome graphics.
* Fun and Easy in play.
* Addictive game play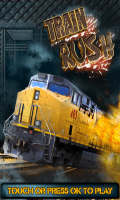 Product reviews
You might also like