Guitar Tuner

GUITAR TUNER - TUNING REFERENCE.
Simple tuner - guitar tuning reference covers standard 6 & 12 string guitars plus open tunings. 17 tunings in all. Useful tunings resource for guitarists. EASY TO USE - match the tones to your guitar strings as with a pitch pipe.
FULL content free version. Guitar Tuner is advertising supported with small banner ads at the top of each screen. No push ads, or sms advertising. User data not collected.
Uses geolocation permissions for adverts only, plus standard wifi and internet permissions etc.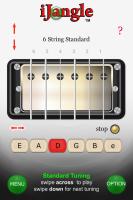 Product reviews
You might also like