HeliWar

Heliwar is an exiting and thrilling game Play. It takes you to an interesting battle field.
The Hero is inside the helicopter and needs to shoot the enemies in the flying mode.
Escape from the hurdles and shoot as much as faster to complete the level.
Touch & drag the helicopter to shoot the enemies.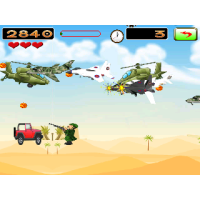 Produktbewertungen
Ihnen könnte auch gefallen