Land of Celje, Slovenia - travel guide

Explore Land of Celje, Slovenia with 21 municipalities. Famous in Slovenia for:
- Spa resorts
- The town of Celje with a rich history reaching all the way from the period of the Roman Celeia to the medieval counts.
- The Kozjansko Regional Park, a protected natural area, which is vital for the tourist activity of the area;
- Hop, with a rich tradition in the Savinja region
- Viniculture and the wine tourism trails and roads;
- Places with a rich cultural and ethnological content
- Cycling and hiking tracks and individual attractions and sights.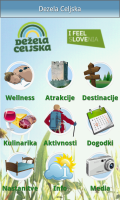 مراجعات المنتج
قد ترغب أيضا في