iJangle Chords-Scales: Chord progressions arranged by music key

CHORDS AS THEY FIT INTO EACH MUSIC KEY.
GUITAR CHORDS as they fit into each music key.
Play back and forth through the scale of any key using its main chords including, major, minor keys, naturals and sevenths.
Find chords that work together in a particular key by exploring intervals.
such as 1st, 4th, 5th, 4th or 1st, 5th, 6th, 4th.
All major and minor music keys covered.
Discover chord progressions.
Easy to use Great for Beginners.
Guitar Chords - Song writing tool.
Interactive music reference & composition aid.
Multilingual: French, English, Spanish and German, Russian ,Portuguese, Japanese, Hindi, Chinese.
Song creation reference tool for guitarists.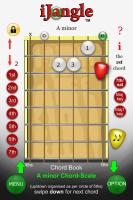 مراجعات المنتج
قد ترغب أيضا في