iJangle Guitar Scales: Pentatonic - Blues Scale - Modes - Charts

Guitar - Scales - Interactive guitar reference - Audio.
+ PENTATONIC & BLUES SCALES (in 5 positions).
+ GUITAR SCALES Major, minor, melodic minor .
+ The 7 MODES in parallel form - an introduction.
+ Ionian ,Dorian, Phrygian, Lydian etc.
+ GYPSY SCALE, harmonic minor.
+ Pentatonic Majors with added blue notes.
+ TIPS AND USES FOR EACH SCALE.
+ EACH SCALE PLAYABLE BY TOUCHING THE NOTES ON SCREEN.
+ Easily swipe or down the neck to change key.
+ Useful compositional tool.
+ 200+ screens / interactive charts with audio - FUN
+ Multilingual: French, English, Spanish and German, Russian ,Portuguese, Japanese, Hindi, Chinese.
+ Easy to use GREAT FOR BEGINNERS.
Useful, Blues scale charts, guitar notes chart, varied selection of guitar scales charts.
Guitar Scales ♦ 200 interactive screens of guitar scales with audio ♦ Blues guitar scales & pentatonics ♦ Major, minor,melodic minor, harmonic minor, gypsy scale and guitar modes ♦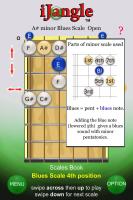 مراجعات المنتج
قد ترغب أيضا في