Fish Collector (Free)

If you are a deep sea lover than play this wonderful crazy,aquatic and funny game in deep sea!!
So you have to swim fast by crossing various hurdles (Shark) in the sea to collect more and more fishes as possible . Here is a cruel angry shark that swims in the sea for catching and eating you. You have to increase your score by eating small fishes and collecting coins.
Download now and enjoy a fantastic java game for FREE.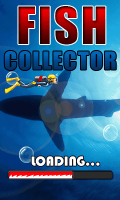 مراجعات المنتج
قد ترغب أيضا في